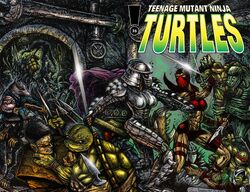 Release date: February/March 2012
Writer: Andrew Modeen
Pencils/inks: Arseniy Dubakov
Pencils (pg 6, 26, 46, cover): Frank Fosco
Pencils/inks (pg 48-49): A.C. Farley
Cover inks: Kevin Eastman
Notes: Gary Carlson
Lettering/production: Adam O. Pruett
Additional plot/edits: Ross May
Tones: David Seltzer with Red Herring Color (Nick Rodgers, Kenny Madrid, Jay Stiverson, Amanda Sims)
Cover colors: Courtland Brugger
Special thanks: Mark Pellegrini
This 2011 fan-comic by Andrew Modeen was the final chapter of the Image TMNT series. It also serves as a plausible bridge to the Volume 4 era of Mirage TMNT, though is not actually an official part of the Mirage TMNT continuity.
Despite not being part of Mirage continuity, Mirage Studios alumni were involved in production: The cover was inked by Kevin Eastman, and the final two pages of the story were illustrated by A.C. Farley.
Major Characters
TBA
Summary
TBA
Back-ups Story
Pin-ups
Lady Shredder vs. Pimiko by Jim Lawson
TMNT by Frank Fosco